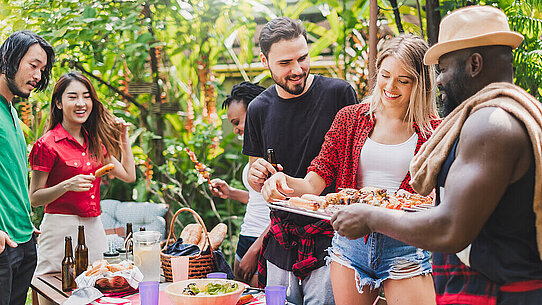 ENJOY A TASTE OF THE CARIBBEAN FESTIVAL AT HOME OR THE OFFICE ALL YEAR LONG!
No More Boring Meetings & Parties!
We are pleased to introduce a Taste of the Caribbean at home or office in partnership with Living Legends Agency. Get the best of the annual event perfectly bundled for you and your guests, in your preferred setting. It's all about sharing the Caribbean culture and experiencing a unique moment between friends and colleagues!
•Are you tired of the same old meetings and parties all the time?
•Are you ready to spice it up?
•Have you ever experienced an authentic Caribbean party?
We have curated the best menus so that you can get the best of a Taste of the Caribbean Festival in your home or office. You just have to choose your menu and date, show up, enjoy yourselves and we'll take care of everything!
TRAVEL THROUGH FOOD!
Eat, drink and be happy!
Let's travel through food! Which island would you like to visit? By hosting A Taste of the Caribbean in your home or office party, you can choose the best dishes and island hop! Start with a few cod fish cakes from Barbados, have a little griot and ri colé from Haiti, with some Jerk chicken from Jamaica, and finish it with a rum cake from Martinique… We can accommodate your taste buds.
Appetizers
Main Course
Dessert

- Haitian patties
- Jamaican patties
- Coconut macaroni
- Mango Salad

- Haiti's Griot (fried pork)
- Jamaica's Jerk Chicken
- Barbados' Sauteed Shrimps
- Rice and peas
- Fried plantains
- Rum Cake
- Fruit platter
*Suggested menu. Packages start at $35/person.
Menus are available for a minimum of ten (10) persons and include with sauces, pikliz, plates, utensils and napkins.
Taxes and service charges are not included.
COCKTAILS, RUM TASTING & MORE!
Are you ready to discover the best island juices and cocktails? There are so many flavors to taste and we have all the recipes! From natural juices like sorrel, mauby and carrot to cocktails like ti-punch, Cuba Libre and our very own Bleuet des Caraibes signature drink. You can also indulge a little rum tasting if you feel like a pirate!

Let us know what you fancy and we'll make sure that your taste buds will discover unique blends and flavors.

Also available:
- Fresh and exotic juices
- Full mobile bar
- Mixologists
- Rum Tasting

Contact us for more information.

FEELING HOT, HOT, HOT!
What's a Caribbean party without a little dancing?
Complete your event with a DJ and a Dance workshop! We have some of the best DJs and dance teachers to keep you and your guests entertained all night long. Will you choose a kompa, bachata or afro Caribbean class? Get your dance shoes ready!
Ready to make you shake your thang are our resident DJs:
- Don Barbarino
- Seriousblack
- GODsta

Want to know more about them and our dance workshops? Contact us
HIRE US, SHOW UP & HAVE FUN!
Imagine travelling without a passport and enjoying the best of the Caribbean ALL YEAR LONG for any occasion! We'll take care of every little detail, and we can garantee that you and your guests will be satisfied and asking for more!
Give us a call and let's plan something legendary!
- Home parties & Anniversaries
- Office meetings
- Corporate events
- Bachelor(ette) parties
- Team building exercises
- And more!
Customize your experience with:
- A service team (waiters & waiteresses)
- A mobile bar (full bar service with mixologist for your cocktails)
- A vegetarian or vegan menu
- Entertainment (DJ & sound system to dance the night away)
- Dance lessons (professional dancers to polish your moves)
- Rum Tasting & Mixology
Our team will come and deliver your party to your door with a complete service.
We cover the following territory:
- Montreal Greater Area (incl. West-Island, Pointe-Claire, Charlemagne, East-Montreal)
- South Shore (incl. Longueuil, Brossard, St-Hubert, Greenfield Park, St-Lambert, Laprairie, Boucherville)
- North Shore (incl. Laval, Terrebonne, Blainville, Mascouche, Boisbriand)
Contact us for more information and events outside of this territory.